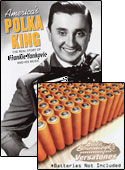 Fall is here and it's high time for another Let's Polka giveaway! This time, it's a two-fer: the winner will receive Bob Dolgan's excellent biography, America's Polka King: The Real Story of Frankie Yankovic, as well as Eddie Blazonczyk's Versatones' Grammy-nominated CD, Batteries Not Included. We'll even throw in a handful of Let's Polka stickers to boot.
How to enter: post a comment on this entry and recommend an accordion album you've been listening to lately. That's it! It can be something old, something new, something borrowed… you get the picture. You'll have until Friday at midnight to post your entry; then we'll pick a random winner and send out the prize next week.
Good luck! We're looking forward to your recommendations!
Update: We have a winner! Thanks to everyone who entered!