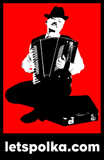 Can you believe it's been a whole year since Let's Polka first came kicking and squeezing into this world? It seems like just yesterday we were interviewing polka greats, hanging out at Camp AccordionLand and the Cotati Accordion Festival, and being written up in the San Francisco Chronicle. We've seen squeezebox zombies, zydeco prodigies, accordion-toting Finnish metal bands, and bizarre Slovenian polka videos. We even managed to anger some Garfield fans along the way.
To celebrate the occasion, we're engaging in our favorite hobby: giving away free stuff! But first, you have to give us something in return.
Your mission: Write a comment on this post and tell us about an accordion artist (solo or group) that we should hear. It could be a musette accordion player from the 1930s, your cousin's conjunto band, or a punk/polka combo you found on MySpace. If there's an accordion involved, we want to know about it!
We'll send a handful of Let's Polka stickers (see photo above) to everyone who posts a comment. Three lucky, randomly-chosen commenters will also receive one of these items from our holiday gift guide:
We'll hold the drawing for those three prizes next Monday, so you have one week to post your comment. (If you comment after Monday, you can still get stickers but you won't win one of the three prizes.)
Sound good? Then start posting — and winning — today!