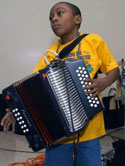 What were you doing when you were two years old? Making mud pies? Eating crayons? Tormenting your parents? Guyton Leday of Opelousas, LA, was like a lot of kids his age, with one exception: he was learning to play accordion, zydeco-style.
Six years later (at the ripe old age of eight), Guyton is featured on an HBO documentary premiering tonight called The Music in Me: Children's Recitals from Classical to Latin, Jazz to Zydeco. The show focuses on six inspiring musical prodigies, each from a different musical and cultural tradition.
As the great, great grandson of the late Delton Broussard, Guyland clearly has the zydeco spirit in his blood. By the time he was four, he was already onstage playing with Zydeco Force, which features his great uncle Jeffrey Broussard on accordion. Last night, Guyland played Carnegie Hall in New York with an all-star zydeco band of friends and family (including Terrance Simien) to promote the documentary.
The show premieres tonight on HBO at 7pm, but will air a number of times there (and on HBO Family) this month. So set your Tivo now!