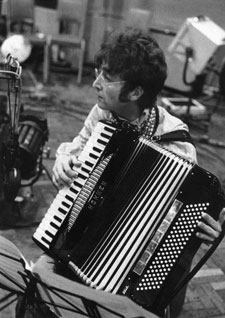 Admittedly, when most people think of John Lennon (who would have been 66 today), they don't think of him playing the accordion. But he actually picked up the accordion long before he ever touched a guitar. In the excellent companion book to the Beatles Anthology, John remembers his early accordion playing:
"I also had a little accordion which I used to play — only the right hand — and I played the same things on this that I played on mouth organ, things like 'Swedish Rhapsody', 'Moulin Rouge', and 'Greensleeves'."
The photo above was taken in June 1967 during rehearsals for the first live international satellite broadcast, Our World, where the Beatles debuted "All You Need is Love". (He was probably just messing around — he didn't play it during the show.)
Beatlefans should check out accordionist Harry Doktorski's article in The Free-Reed Journal about the Beatles' use of harmonicas, accordions, harmoniums, and other free-reeds. And if you're curious to hear how some Beatles classics translate to accordion, don't miss Domenic Amatucci's Accordion Beatles; he's covered everything from "A Day in the Life" to "Yesterday" on solo accordion.