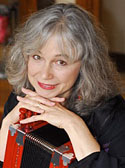 Do you have a question for Blair Kilpatrick, author of Accordion Dreams: A Journey into Cajun and Creole Music? Would you like to win a free, signed copy of her book? Read on!
Blair has kindly offered to answer a handful of questions from our readers about her story, her music, or whatever else sparks your curiosity. Just submit your question here before next Monday (January 26th) and we'll forward your questions to Blair for her to answer in a future post. Then we'll choose one lucky, random question-asker and they'll receive a free, signed copy of her excellent new book.
In the meantime, Bay Area accordion aficionados can catch Blair at one of these upcoming author events:
In addition to a reading, book signing, and Q&A, these events will also include live Cajun-Creole music.