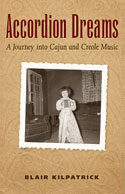 I love hearing stories of how people fell in love with the accordion, so I'm really looking forward to Blair Kilpatrick's new book, Accordion Dreams: A Journey into Cajun and Creole Music. Kilpatrick was a happily settled psychologist, wife, and mother when a trip to New Orleans sparked a passion for Cajun music and the accordion. Today, she lives in the San Francisco Bay Area — the largest Cajun/zydeco scene outside of Louisiana — and plays accordion in her own Cajun-Creole band, Sauce Piquante.
The book details Kilpatrick's pursuit of her unlikely obsession with Cajun culture and the accordion, from the Chicago's Cajun dance scene to a folk music camp in West Virginia and trips to Louisiana and even France. But it's really about embracing new experiences and how you can chase your dreams at any age.
"… I moved the bellows just a little, my finger depressing a single white button, one of the low notes on the treble side. I bent my ear close. There—I heard it! A throaty whisper that promised to turn into the real thing once I really let go. I could already picture it, and I could practically feel it: bellows pumping, air rushing, all four reeds vibrating in the thrilling growl and wail of a Cajun accordion in full voice. The accordion of my dreams."
If you live in the Bay Area, there'll be a release/dance party for the book on February 10th at Ashkenaz in Berkeley. The event will include a reading, book signing, and a performance by Sauce Piquante.