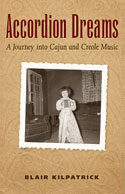 Today we're closing the book, so to speak, on our Q&A series with Blair Kilpatrick, author of Accordion Dreams: A Journey into Cajun and Creole Music. In her last set of responses, Blair discusses her accordion collection, the SF Bay Area Cajun/Zydeco scene, and her dream "accordion lunch."
If you could have lunch with the accordion player of your choice, who would it be and why?

That's a difficult one. There are two Louisiana legends from the past I'd love to meet: Creole accordionist Amédée Ardoin (1896-1941) and Cajun accordionist Iry LeJeune (1928-1955). Iry, who recorded much of the core Cajun repertoire, was heavily influenced by Amedée, so I imagine they'd enjoy getting together. That would be a wonderful fantasy lunch—even though I'd have a hard time keeping up, since the conversation would be all in French.

But if I had to choose, I'd share one more meal with Creole accordionist Danny Poullard, my friend and teacher, who died in April of 2001. He was the guiding spirit of the Bay Area's Cajun-zydeco scene. He gave away his music so freely—he had weekly jam sessions at his house, and he was so proud of his many protégé's who went on to play in bands of their own. He also taught at music camps all over the country. My band was the final one to be shaped by his garage jam sessions. He even suggested our name, Sauce Piquante. He heard us perform as a full band just once, five days before he died.

So I'd love to bring him back to let him know how things are going—and to tell him he's not forgotten. I hope he'd like my book. So much of Accordion Dreams is about my time with Danny. He was a tough but loving mentor—so I'm sure he'd offer a few tips about my accordion playing—and maybe even about the book, too!
What do you think makes the SF Bay Area Cajun/Zydeco scene so vibrant?

When I moved here in 1997 from Chicago, I felt like a kid in a candy shop. There were at least twenty local bands playing Cajun and zydeco music, any number of venues, and regular appearances by touring out-of-state bands. You could go out dancing every night of the week and often you'd have more than one choice. These days, things have slowed down a little. But it's still the most active and vibrant Cajun-zydeco scene outside the Gulf Coast. Just check the online calendar. (We still have twenty homegrown bands listed!)

The Bay Area is unique because of the presence of such a large number of people with roots in Louisiana—Cajuns, but especially Creoles, who began to migrate to California in the 1940's. They left Louisiana and East Texas in search of economic opportunities and a more open social climate. In the San Francisco Bay Area, these Louisiana transplants tried to keep their culture alive through music—at house parties and Catholic Church dances, and eventually in more commercial venues. The local Creole community produced a number of musicians, including famed zydeco accordionist Queen Ida Guillory, as well as my late friend and mentor Danny Poullard (see below) who had a hand in shaping most of the Bay Area bands playing today.

Most people agree that the Creole community provided the foundation for the local music scene. But the other important piece is the strong tradition of folk and world music in the Bay Area. Fiddlers, especially, were drawn to Cajun music—many spent time in Louisiana studying the music. But they also discovered a thriving Louisiana French community right here.

So the current scene represents the coming together of two groups: Creoles, as well as some Cajuns, with roots in Louisiana; and then the outsiders—people like me—who have been drawn to the music and culture. It's a unique community of musicians and dancers—and a pretty wonderful one.

How many accordions do you have? Which is your favorite and why?

The accordion head count currently stands at eight—if you include my two toy accordions, a "starter" Hohner on permanent loan to my rock guitarist son in NYC, and the piano accordion I've never learned to play.

It's tough to pick a favorite. I'm attached to them all—and there is a story behind each one.

I have three beautiful handmade Cajun accordions. For those who don't know: a Cajun accordion is a single row diatonic instrument, with ten buttons on the treble side, two on the bass side, and four stops corresponding to four banks of reeds. Cajun accordions tend to be "dry-tuned"—which creates less of a tremolo sound.

The first two were made by Larry Miller, a well-known builder, now retired, who lives in Iota, Louisiana. The first one, in the key of C, was crafted from a piece of driftwood Larry found on the shores of Holly Beach, a Gulf Coast resort. A few years later, I discovered singing was easier for me in a higher key. So then I asked Larry to make a D. He used an unusual reddish South American wood whose name escapes me at the moment.

A few years ago, I had a second D accordion made by Jude Moreau, a Cajun musician friend and instrument maker who lives in Texas. At my request, this one was slightly "wet-tuned." It has a few other custom touches and a personal inscription inside. Unlike the other two, which have a natural wood finish, this one is a bright shiny red. (Like a candy apple, as one friend observed.) I think of this one as my "flashy" accordion—the one I use most often for performing. (You can also see it in my photo.) If have to pick a favorite, I guess this is it!

The first accordion I tried to play was an oddball little number I found in a music store in Chicago. The owners, an elderly German couple, told me it had been in storage for just a few years. It turned out to be an antique—probably going back to the 1920s-30s! It is a very primitive single row diatonic accordion made by the Eagle Company in Germany. Very flimsy, weighing about two pounds, two banks of reeds on a single plate, high pitched, key of G. Basically, it's a glorified harmonica. As famed Louisiana accordion builder Marc Savoy explained to me, it is an unplayable instrument—though it could have some value as a collector's item. So now it sits on display in our dining room, in an old china cabinet—also an antique, from my Slovenian grandparents' house in Cleveland.

(Cajun accordion fans may recognize the Eagle name: this is the same company that made the famed Monarch and Sterling accordions, the preferred choice in Louisiana until the German-made accordions became unavailable during World War II.)

When I gave up on my crazy little Eagle accordion, my husband Steve bought me my first decent Cajun-style accordion. It was factory made: a Hohner 114, the so-called "Hohner Cajun C." This was an adaptation of the standard single row diatonic instrument Hohner had made for years. It was designed to resemble the much loved "tit noirs"—the black Monarch and Sterling accordions that had been favored in Louisiana. At the time, it was considered the best alternative to the hand built Louisiana accordions: more affordable, but still a very solid instrument for a beginner. (Note: the is not the same thing as the less expensive Ariette Cajun-style model currently made by Hohner.)

The two toy accordions, both in the key of C, have seven treble buttons, two stops—and surprisingly decent reeds. I bought the first one at a gas station in Louisiana for about $14, on one of our first family trips there, as a gift for our kids. The second one I bought more recently, at a discount store, to take along as a practice instrument on a trip to the Balkans.

The piano accordion? It was another gift from Steve. It's made by Francini. It's considered a "ladies' accordion" because it is built on a slightly smaller scale. (It's also a very ladylike pearly white!) But otherwise, it's full size, with 24 white treble keys and 120 basses. I tried to play it a little when I first got it, but I couldn't get the hang of it. I kept thinking I had to change the bellows direction when it wasn't necessary. So I gave up.
Thanks again to Blair for answering all our questions. Be sure to check out her new book, Accordion Dreams: A Journey into Cajun and Creole Music.