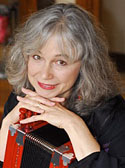 Recently, we asked readers to send in their questions for Blair Kilpatrick, author of Accordion Dreams: A Journey into Cajun and Creole Music. Thanks to everyone who responded — and congratulations to Mister Anchovy, who won our drawing for a free copy of the book. Today, in her first set of responses, Blair describes how she was drawn to the accordion and the musical life that she and her husband share.
What inspired you to choose the accordion, as opposed to another Cajun instrument?

Good question. But I never did choose the accordion. It chose me.

It came to me in a dream. Literally. A series of recurring dreams, strange and vivid. I was at one with the instrument, almost dancing with it. It felt like the accordion was playing me. I'd wake up in the morning with the sensation still lingering in my hands. This was peculiar, since I wasn't a musician and had no memory of ever laying my hands on an accordion.

My unlikely passion for Cajun music had begun on a birthday trip to New Orleans, when I heard some recorded music — it was a Beausoleil tape — on a swamp tour. After that, I became consumed with the sound: buying up cassette tapes, listening constantly, going to monthly dances put on by Chicago's one and only homegrown Cajun band. After nine months of listening, dancing, and dreaming music, I finally gave in: I had to find an accordion.

So it didn't feel like a choice or decision — it was more like succumbing to a consuming passion. A sensible person would have stuck to Cajun dancing, or maybe picked up the guitar or triangle as a first instrument. (Later on, I did learn to play them both, along with some very basic fiddle.)

After the fact, I've tried to analyze what it is about the particular sound of the Cajun accordion that appeals so strongly to me. My first teacher at music camp, a very young Steve Riley, described it this way: loud and crude. It is, in some ways. Cajun accordion also has a very percussive quality, because of the inherent nature of a single row diatonic instrument. It's like the wild skirl of the bagpipes or the wail of a blues harmonica — it moves you. Or it doesn't.

More recently, I've begun to suspect the accordion resonated so strongly for me because of my Slovenian roots, which were mostly discounted when I was growing up. But that's another story.
If your husband was not already in the music / performance field, would you have had the same passion and devotion to accordion music?

I read this question to my husband. Here's his short answer, after he got done laughing:

"And what music/performance field was that?"

Here's my longer answer: It was the other way around. My passion and devotion to Cajun music pulled Steve back into an active music life. But I do know this: I would not have been able to pursue my music — or my writing — without his love and support. That's why Accordion Dreams is dedicated to him. He opened the door — by taking me on that fateful birthday trip to New Orleans. (Our older son later wisecracked: "Lucky thing Dad didn't take you to Milwaukee on your birthday. You might be playing polkas.")

A little more about Steve: Like me, he wasn't musically inclined in his early years. But when he was in his twenties, he fell into playing mandolin with a ragtag bluegrass band called The Foggy Headed Boys. (We had moved to North Carolina, where I pursued a Ph.D. at Duke.) The band played mostly for college parties and the occasional coffeehouse gig. Steve enjoyed it, but when we returned to Chicago he left it all behind. His mandolin playing became a casual solo affair—around the house for our own kids, or for the students at the school where he worked.

Thirteen years later, when I fell in love with Cajun music, Steve had only recently started to get back to bluegrass. I was the one, in fact, who pushed him into taking a bluegrass ensemble class. At first, he was slow to warm up to Cajun music, although he completely supported my interest in it, and he was happy to accompany me to music events. (He wasn't too crazy about the dance lessons, though!)

Then, about a year after I got my first accordion, I bought Steve a fiddle. Little by little, he got more involved. Today, he is as committed to Cajun and Creole music as I am. Along with fiddle and mandolin, he plays a fine rhythm guitar. He draws the line at the accordion — he considers it an "impossible" instrument!

I think every couple should play music together. We've shared some wonderful adventures. We're never bored. I never have to worry about where to find a fiddler or a dance partner. And we keep each other out of trouble.
Blair will answer more reader questions in the coming weeks. Meanwhile, check out her new book, Accordion Dreams: A Journey into Cajun and Creole Music.