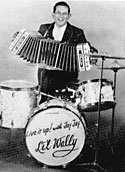 Rock and roll had Elvis. Polka had Li'l Wally Jagiello, pioneer of the Chicago-style polka, who passed away yesterday at the age of 76. The son of Polish immigrants, Li'l Wally was a self-taught drummer and concertina player who revolutionized polka music by taking the frantic pace of traditional polka and slowing it down. In Charles Keil's book Polka Happiness, Li'l Wally explained his approach:
"You see, a polka was never supposed to be played fast. If you play it fast, you modernize it. I went to Europe, all different villages. I never heard a fast polka there. So why should I hear a fast polka here? My beat is more ethnic. They used to tell me this is too slow… Actually, it's not slow. It's a bouncy beat, but not fast… Eastern style may be musicians' music, but I don't play for musicians, I play for the public. The public wants to hear melody, lyrics. They want to hear a song with a simple, real pretty story behind it that they can dance to. Real bouncy."
Li'l Wally promoted his music tirelessly with live shows (as a trio — trumpet, concertina, and Wally on drums), a morning radio show, and his own record company, Jay Jay records. He wrote over 2000 songs — including his hits "Wish I Was Single Again", "Chicago Is a Polka Town", and "She Likes Kielbasa" — and during his 1950s heyday, he recorded between ten and twelve albums a year. Unlike most bandleaders, Li'l Wally eschewed sheet music; instead, he wanted his musicians to have room for improvisation and focus on their most important job: pleasing the audience.
One of the charter members of the Polka Hall of Fame (along with Frankie Yankovic), Li'l Wally was a polka legend and he will be sorely missed. To learn more about his life, check out this excellent in-depth feature from the Miami New Times, written in 1999. And make sure to drink a beer (or two) for Wally tonight.
Li'l Wally: In Heaven There is No Beer (MP3 sample)