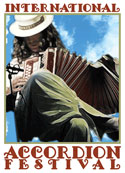 Sometimes I feel like California just isn't cutting it; all the accordion excitement seems to be in Texas. Case in point: the sixth annual International Accordion Festival starts Friday night in San Antonio with a cajun and conjunto kick-off party featuring the Gulf Coast Playboys and Mingo Saldivar.
And that's just the beginning. The festival continues throughout the weekend with an incredible lineup of performances, workshops, and jam sessions featuring accordionists from all over the world. There's the Renato Borghetti Quartet from Brazil, Les Primitifs du Futur from Paris, the Marian Pelka Trio from Poland, Helen Xu & Zongti Lin from China, and many more.
Texas, of course, will be well represented, too. A trio of conjunto legends — Flaco Jimenez, Joel Guzman, and Sunny Sauceda — will perform together on Saturday night. Texas bands Los Desperadoz, the Gourds, and Brian Marshall and his Tex-Slavic Playboys will also be playing. Check the festival site or the San Antonio Express for a full schedule.
If you're like me and you're stuck somewhere besides San Antonio this weekend, you can still sample the sounds of the festival by listening to the clips below:
Renato Borghetti: Peleia (MP3 sample)
The Gulf Coast Playboys: Key West 2-Step (MP3 sample)
Les Primitifs du Futur: Fox Musette (MP3 sample)
(If anyone knows the title of that Primitifs du Futur tune, let me know!)