As the tryptophan-induced Thanksgiving haze wears off, I thought I'd share a couple examples of accordion-inspired architecture that I'd run across recently. The first comes from Buenos Aires, where the city has just dedicated a new monument to tango music in the shape of a giant steel bandoneon. The tango has long been an integral part of Argentinian culture and this monument joins statues and plaques in Buenos Aires honoring tango legends like Carlos Gardel, Osvaldo Pugliese and Astor Piazzolla.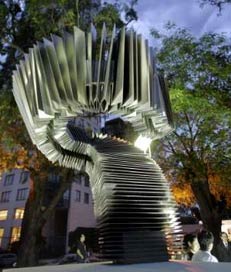 The second isn't reality (yet), but is a design by London architect Ken Shuttleworth for a 10-story accordion-shaped building that will border Christopher Wren's Monument to The Great Fire Of London. The building's rooftop garden will double as a sundial, using the shadow from Wren's Monument to indicate the time.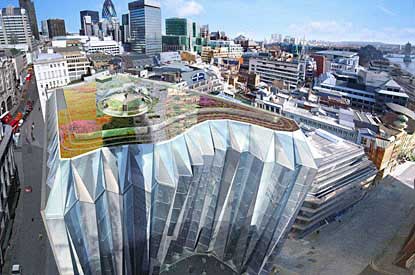 My favorite piece of accordion architecture, though, is still the old San Francisco accordion school — Theodore School of Music on Union Street — with its entire second floor shaped like an accordion.