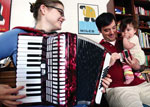 We often link to profiles of accordionists in newspapers around the globe, but today we're linking to something a bit closer to home. In our own house, actually. This weekend's issue of the Palo Alto Weekly has a very flattering cover story on our family and how accordion music brought Anna and I together (and inspired this site):
"Fast forward to 2003… A girl named Anna messaged Saccheri on Friendster. She said she liked accordions too, that she'd been playing since high school. After exchanging a few e-mails, the couple started dating. The end of the story is the stuff of fairy tales: They're now living happily ever after in accordion-playing bliss with their 6-month-old daughter Sarah in a little house near the Stanford campus."
Thanks to Jill Kimball, Marjan Sadoughi, Karla Kane, and everyone else at the Weekly for the excellent article!