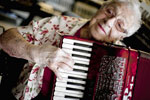 Forget the recession; running an accordion shop is a challenging business even in the best of times. Last week, the Chicago Tribune had a great profile of the Italo-American Accordion Company in Oak Lawn, Illinois, which has been in business for nearly 95 years. Joe Romagnoli took over the business in 1948 and made a name for himself by selling meticulously hand-crafted instruments. Today, his wife Anne runs the business, but it's a far cry from the accordion company's heyday. According to John Castiglione, who runs Castiglione Accordions in Warren, Michigan:
"The market is more scattered than it was in the '50s, when the accordion was the No. 1 instrument and everyone took lessons and there were schools… People still buy, but for all intents and purposes, you don't find stores selling just accordions."
At Italo-American, they're lucky to sell a handful of instruments a month; most of their business comes through repairs. But Anne, who's now 83 years old, refuses to retire and makes a spirited accordion sales pitch to anyone who walks through her door.
"If you have an old accordion, put life into it. The accordion is a happy thing. There is no other instrument this self-sufficient. You play guitar, you need people. But you can take an accordion to a picnic. You can't take a trumpet to a picnic!"