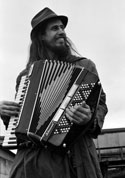 Few performers connect with their audiences as well as Seattle songwriter/accordionist Jason Webley. Known for his gravelly, Tom Waits-ish voice and feverish foot-stomping and bellows-pumping, he's built a loyal following with theatrical shows that not only invite audience participation, but practically demand it. He also has a thing for tomatoes.
Jason is the brains behind the Monsters of Accordion tour, an all-accordion extravaganza taking place on the West Coast this week. We recently had the chance to talk to Jason briefly about the tour and his work.
If I've counted right, I think this is the third or fourth Monsters of Accordion tour. How did it all start? What was the inspiration?

We got the idea for the Monsters tour at an event I was invited to headline at Smythe's Accordion Center maybe 4 years ago. I had never seen so many other accordion freaks before, and I really fell in love with a couple of them (Daniel Ari and Duckmandu) so we decided to try and do a little accordion only tour. So this is actually year three for "Monsters of Accordion." The three of us did the west coast together twice, I think. But I was always the main draw on those tours and somewhere I decided that, if I was going to do it again, I wanted to make it bigger than just me. So I invited Corn Mo and Geoff Berner, who both tour all over and have their own followings. And they are amazing. I think it is going to be a great run.