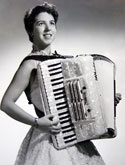 A legendary performer, teacher, and champion of the accordion, Maddalena Belfiore-Greco passed away last Friday. She began playing the accordion at age five and went on to study with some of the greatest accordion teachers, including Sanford Hertz, Charles Nunzio, Eugene Ettore, and Pietro Frosini. She eventually attended Julliard and, at age 17, gave a recital at Carnegie Hall.
Belfiore-Greco also authored several accordion technique books, including the Myron Floren Method books (in collaboration with Myron) and three seminal works on the bellows shake. In 1958, she opened the Belfiore Accordion School in her hometown of Kearny, NJ, and judged numerous international and national music competitions. In a recent interview, her advice to accordion students emphasized the importance of performing in public:
"Listen to your teacher, and very important – practice! You have to have goals. Also, what happens today (different from when I studied) is that no one has a chance to play any place. I used to play at all these Clubs and Organizations, and that doesn't happen so much any more I feel… We used to play any place we could. It was all part of the teaching and learning process. Kids going out to play publicly is probably the best lesson they could ever learn!"
In 1971, after several years on the Board of Directors, Belfiore-Greco became the first female president of the American Accordionists' Association. She was also a longtime officer in the prestigious Confédération Internationale des Accordéonistes (CIA) and was instrumental in bringing the 2007 Couple Mondiale accordion competition to the United States.
To learn more about Maddalena Belfiore-Greco's life and impact on the accordion world, check out the thorough obituary at Accordion USA, as well as the fantastic interview mentioned above, which was conducted just last year. It includes some incredible old photos and news clippings of the extraordinary life of this accordion legend.