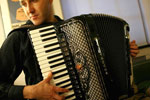 Yesterday's Chicago Tribune had a fascinating profile of Sergei Belkin, a Russian accordion virtuoso now living in Wisconsin as a machine polisher in an industrial pump factory. Belkin grew up in Siberia and studied at the prestigious Moscow Conservatory but, after a long journey that took him from Siberia to Nome and now Wisconsin, he gave up the accordion shortly after reaching the U.S. Since returning to the instrument two years ago, though, he's been wowing audiences and fellow musicians alike:
"Teri Forscher, a flutist who has performed with the Cleveland Orchestra and the Atlanta Symphony, heard him a few weeks ago. 'It was extraordinary… I mean it was really, really jaw-dropping. When you see Sergei play, you assume he must be some kind of international star.'"
Instead, though, he spends most of his time at a factory job that has already contributed to a permanent soreness in his left shoulder and elbow that affects his playing. His story is a compelling one, and underscores how there are no guarantees, even if you have incredible talent.
The article includes a sidebar called "5 Questions on Accordions", with answers to such burning questions as "Did any great composers write for the accordion?" and "What kinds of music can the accordion play?" Of course, if you're reading this, you already know the answers. Smarty pants.