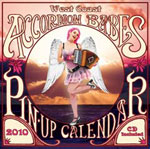 Forget puppies or creepy babies dressed in animal costumes. Instead, treat yourself to a calendar with some class — the 2010 West Coast Accordion Babes Pin-Up calendar. We picked up our copy at Cotati last weekend and, like last year's calendar, it features a year's worth of artsy photos of professional accordion babes showing off their bellows. And if that wasn't enough, each contributed a track to the calendar's companion CD, resulting in a fun mix of folk, jazz, gypsy, pop, and more.
Artists in this year's edition include Big Lou, Jessica Fichot, Tara Linda, and the ladies of Those Darn Accordions. The calendar is just $20 and can be ordered here or directly from many of the accordion babes themselves. I recommend acting fast — last year's calendar sold out in just three weeks!
The annual Accordion Babes calendar is put together by San Francisco accordionst Renée de la Prade of the band Culann's Hounds. Renée's become a fixture as a street performer in San Francisco, belting out tunes on her Irish button accordion; check out her recent feature and audio slideshow on the SF Chronicle website.