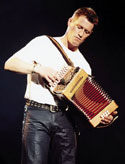 Remember our post about last week's attempt to set the Guinness World Record for fastest accordion player? Thanks to the Irish Post we've discovered that the accordionist was Irish button box virtuoso Liam O'Connor. Liam rose to fame as a featured musician with Michael Flatley's Lord of the Dance, and has also recorded three albums with vocalist Lisa Aherne.
According to his site, Liam set the record for "Fastest Fingers in the World" by playing an amazing 11.64 notes per second under the watchful eyes of Guinness judges. The record-breaking tune was the venerable classic, "Tico Tico".
Unfortunately, Liam's site doesn't have any sound clips, so we can only wonder what his fast fingers sound like. Leave a comment if you know where we can find clips of Liam's music online.