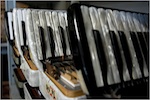 Today's New York Times has an excellent article on Castelfidardo, the longtime center of the Italian accordion industry. From Paolo Soprani's shop in 1863 to the peak of accordion production in 1953 — 200,000 instruments built by 10,000 full-time workers — Castelfidardo has been inextricably linked to the accordion. There are still about 27 companies building accordions and parts there and, rather than compete with cheap models from Eastern Europe or Asia, they're focused on building fewer, but higher-quality instruments.
"'Our accordions are like bespoke apparel,' said Francesca Pigini, a top manager for the company her grandfather started in 1946. 'For us, it's a pleasure and an enrichment to work and collaborate with artists and people who make music a big part of their lives.'"
Pigini is the largest accordion maker in Castelfidardo, making professional-caliber accordions ranging in price from $3,000 to $43,000. While China has long since passed Italy as the largest producer of accordions, the folks in Castelfidardo are confident that the best players will eventually find their way to Castelfidardo's exceptional, hand-crafted instruments.
"We're not pessimistic about the future because some young Chinese players will become professionals, and once they're looking for more important instruments where will they come? To Castelfidardo."
If you're planning a trip to Italy and want to visit Castelfidardo, be sure to check out the International Accordion Museum, which traces the accordion's evolution from the 19th century to present day. There's also (of course) a big accordion festival there every Fall.