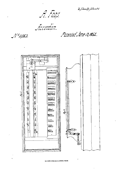 Many sites claim that today (January 13) is the anniversary of the day the first U.S. patent for an accordion was granted to Anthony Faas in 1854. A quick look at Faas' original patent, however, reveals that it was filed on April 7 and granted on JUNE 13 (not January 13). I'm guessing that, somewhere along the line, someone mistook "Jun" for "Jan" and the mistake was unwittingly perpetuated. Let it stop here once and for all!
Faas' patent wasn't even the first relating to accordions. The first (non-US) accordion patent was actually granted more than twenty years earlier to Viennese instrument maker Cyrill Demian on May 23, 1829. And Christian Friedrich Buschmann invented the first hand-held bellows-driven free-reed instrument (the hand-aeoline) as an aid for tuning organs in 1822. (Brush up on your accordion history at the Classical Free-Reed.)
For more accordion-related patent fun, give Google's Patent Search a whirl. I found a couple of odd patents granted to Lawrence Welk — one for an accordion-shaped lunchbox and another for an accordion-shaped ash-tray (which we saw on eBay several months ago!).