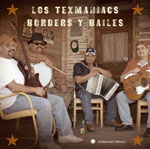 In conjunto music, the 12-string bajo sexto is the accordion's best friend: a constant companion who handles the bass and backbeat, allowing the accordion player to focus on right-hand melody (and often ignore the left-hand bass buttons entirely). As conjunto music's premier bajo sexto player, Max Baca of Los Texmaniacs has become the guy every accordionist wants to play with.
Baca started playing bass in his father's band at the age of eight and formed his own band when he was just twelve. He eventually went on to play with Flaco Jiménez and then the Texas Tornados, the popular cross-over group that included Jiménez, Doug Sahm, Freddy Fender, and Augie Meyers. Baca loved the Tornados' rock-and-roll sound, but was drawn to the traditional conjunto music of his roots as well. In 1997 he created Los Texmaniacs and went to work fusing blues and rock-and-roll influences with the traditional conjunto pairing of button accordion and bajo sexto.
In recognition of the way Los Texmaniacs has pushed the envelope with conjunto, Smithsonian Folkways is releasing Los Texmaniacs' Borders y Bailes this month as part of their ongoing Tradiciones/Traditions series showcasing music from Latin American traditions. Los Texmaniacs will also perform at the Smithsonian Folklife Festival on the National Mall in Washington next week.
The track below ("Redova") is a bouncy instrumental duet between Baca's bajo sexto and David Farias' accordion. The redova rose to popularity in Europe in the mid-1800s and was imported to Mexico shortly thereafter; its sprightly one-two-three step resembles a fast waltz. You can still hear it amongst the polkas, schottisches, cumbias, and huapangos at a typical conjunto dance.