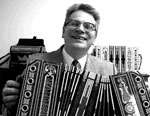 Hang on tight — it's another edition of "Five Questions", our interview series with noteworthy accordion personalities from around the globe.
Few accordionists can cross genres as comfortably as Bradley Jaye Williams. Born in Michigan, Williams moved to the San Francisco Bay Area and then to Austin, where his music career really took off, playing with the likes of Flaco Jimenez and Mingo Saldivar. He currently plays in three bands: an authentic Texas-style conjunto called Conjunto Los Pinkys, a Cajun/Zydeco dance band known as The Gulf Coast Playboys, and The Fabulous Polkasonics, a combo that plays Polish-American "honky style" polkas, waltzes, and obereks.
When and why did you first start playing the accordion?

In 1986, I started playing the 2-row button accordion while living in a tiny studio apartment in Berkeley, California. My neighbors listened to me struggle with "La Cucaracha" and "La Nopalera" for a few months! Why did I start playing? I love accordion music! It was the natural thing to do. It felt right. To me, the accordion was always cool and it's at the heart of many styles of dance music I love. I grew up in Saginaw, Michigan around all kinds of music… Motown, country, Dixieland, jazz, rock n' roll and polka music… mainly the Polish-American and German music of Marv Herzog and Lawrence Welk (of course).

Living in the Bay Area in my 20's, I experienced the music of Flaco Jimenez and it really struck a chord with me. Here was good old polka music being chopped and customized in a new and different way. I loved it. Ultimately, I think I was drawn to the international and cross-cultural appeal of accordion music and polka… the songs, customs, dance, food and pure FUN we all share. Of course, there is also something very compelling about the accordion itself: a magnificent machine…beautifully designed…and a challenge to play.