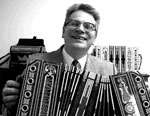 Hang on tight — it's another edition of "Five Questions", our interview series with noteworthy accordion personalities from around the globe.
Few accordionists can cross genres as comfortably as Bradley Jaye Williams. Born in Michigan, Williams moved to the San Francisco Bay Area and then to Austin, where his music career really took off, playing with the likes of Flaco Jimenez and Mingo Saldivar. He currently plays in three bands: an authentic Texas-style conjunto called Conjunto Los Pinkys, a Cajun/Zydeco dance band known as The Gulf Coast Playboys, and The Fabulous Polkasonics, a combo that plays Polish-American "honky style" polkas, waltzes, and obereks.
When and why did you first start playing the accordion?

In 1986, I started playing the 2-row button accordion while living in a tiny studio apartment in Berkeley, California. My neighbors listened to me struggle with "La Cucaracha" and "La Nopalera" for a few months! Why did I start playing? I love accordion music! It was the natural thing to do. It felt right. To me, the accordion was always cool and it's at the heart of many styles of dance music I love. I grew up in Saginaw, Michigan around all kinds of music… Motown, country, Dixieland, jazz, rock n' roll and polka music… mainly the Polish-American and German music of Marv Herzog and Lawrence Welk (of course).

Living in the Bay Area in my 20's, I experienced the music of Flaco Jimenez and it really struck a chord with me. Here was good old polka music being chopped and customized in a new and different way. I loved it. Ultimately, I think I was drawn to the international and cross-cultural appeal of accordion music and polka… the songs, customs, dance, food and pure FUN we all share. Of course, there is also something very compelling about the accordion itself: a magnificent machine…beautifully designed…and a challenge to play.
When did you move to Texas? What inspired you to move?

I moved to Austin, Texas in 1993. My decision to move to Texas was inspired by conjunto music, good friends and cheap tacos. I already knew Flaco, Santiago and Little Joe and I was getting airplay on KEDA Radio Jalapeno 1540 AM in San Antonio with a bilingual song called "El Cool Dude". On New Years Day in 1992, a friend called me from a San Antonio phone booth, holding the phone next the the car door speaker for me to hear my song blasting over the radio airwaves. Wow! It felt like Texas was where I was supposed to be… I was already playing there! This may sound funny, but in the back of my mind, I also knew I would never go hungry playing music in Texas. I could always buy two tacos for a dollar at The Tamale House, no matter how bad it would get!

I was having difficulties keeping a regular bunch of guys together in the Bay Area. One of the struggles of being a band leader is juggling 4-5 players' personal/professional schedules to book a gig. I was having a lot of problems finding conjunto people. Good musicians seem to stay busy and double booked! Somewhat frustrated, Texas seemed like a good option for me, with more conjunto musicians and more opportunities for playing and learning the music with seasoned veterans from Austin's East 6th Street and San Antonio's West Side scene. I was ready to make a move.

"Texas seemed to be the center of the universe for accordion music… it felt like home."

Keith Ferguson (original bassist and founding member of The Fabulous Thunderbirds) summed up my situation perfectly. He came up with two brilliant solutions to my musical problem. "Get yourself a monkey and a tin cup OR move to Texas." He assured me I would not have a problem finding capable, available musicians in the Lone Star State. (I also did not want the responsibility of owning a monkey. Isn't that illegal?) So, I packed up ALL of my belongings — which consisted of a backpack full of clothes, 2 Gabbanelli accordions and a bajo sexto — and I took the Amtrak train to Austin. I "hit the ground running" and I sat in with Norteño and Conjunto bands after only two days in town. Soon after that, I landed a gig at La Zona Rosa opening for Flaco Jimenez. Texas seemed to be the center of the universe for accordion music, with plenty of Czech, German, Polish, Cajun, Zydeco and Tex-Mex bands and dances everywhere. I was in accordion heaven. It felt like home.

You've been fortunate enough to share a bill with some accordion legends — guys like Flaco Jimenez, Mingo Saldivar, as well as your own bandmates Isidro Samilpa and Chencho Flores in Conjunto Los Pinkys. Who have been the biggest influences on your music and, specifically, your accordion playing?

Yes, I have been lucky enough to play along side some of my idols, like Flaco, who occasionally hires me to play bajo sexto with his group which is one of the coolest experiences for me. Playing and singing with Flaco has been a highlight! Great shows with Mingo Saldivar, Los Dos Gilbertos, The Hometown Boys, Angel Flores, and Nick Villareal, too.

Musically, my earliest influences came from Louis Armstrong. I started playing trumpet at 10; I loved Dixieland music as a kid! When it comes to the accordion, there are a few people I really respect and marvel at the way they play the squeezebox. I'm influenced by some of these incredible players. Eddie "Lalo" Torres (Los Pavos Reales), Sandy Sanchez, Oscar Garcia, Joe Martinez, Tony De La Rosa, Ruben Vela, Joel Guzman. Flaco Jimenez, Steve Jordan, Marc Savoy, Aldus Roger, Joe Bonsall, Danny Poullard, Los Tremendos Gavilanes…

For the past 5 years or so, I've dedicated a lot of my time to learning and playing the Chemnitzer concertina. I am really influenced by the players from the 50's and 60's — Chicago-style Polish-American music like Eddie Zima, Ed Lash, Li'l Wally and Scrubby from the old Dynatones group out of Buffalo.

Of course, over the years I've learned an incredible amount from Isidro Samilpa (Conjunto Los Pinkys). I've been standing with him onstage for about 15 years now. He's a solid singer and accordion player and I'm heavily influenced by his playing and style. He has a super laid back style and is one of the best singers around!

Speaking of the Chemnitzer concertina, what inspired you — after already playing in conjunto and Cajun bands — to start a more traditional Polish-style polka band?

Oddly, I was hearing elements of "Polish" music in Tejano and Cajun music already… another spice in the gumbo! For me, stylistically and culturally, it was not a big stretch to start playing Polish music. I had it inside of me already. The "huapango" sounded like an "oberek". The "tacquachito" beat was similar to the slower "Li'l Wally sound" from Chicago. I heard Cajun "two-steps" with a "push polka" undercurrent.

"I was hearing elements of 'Polish' music in Tejano and Cajun music already… another spice in the gumbo!"

Is there a polka gene? If DNA has anything to do with it, my father's people came down from Nova Scotia and my mom's parents came from the villages in Poland in the very early 1900's. They were one of the waves of Polish immigrants who brought the polka music to the United States. Growing up "half-Polish" and in my forties, I actually felt a desire to connect to my Polish heritage by learning the melodies and singing the songs… and struggling to learn the language. My 87 year old mother still speaks Polish and was great help in grammar, pronunciation, etc. I think I was inspired by her and her family, too. She is overjoyed I am taking the effort to embrace my old Polish ancestry… although she's not really a polka music fan. Ha!

I started playing the concertina just for the fun of it, but I got serious fast and fell under the spell of the Chemnitzer concertina, learning the "Honky-style" music of Eddie Zima, Ampol Aires, Casey Siewierski and Li'l Wally. I was especially inspired by the sound of Zima, and the Li'l Wally "One Man Band" record which became the original blueprint for the band's sound with only a concertina, drums and singing. Happy music. Li'l Wally sent me all kinds of songbooks, concertina music and LPs, plus stacks of energetic letters and old photos. He was very supportive and I felt like one of the lucky ones out of all the people he corresponded with.

I was lucky to come across some excellent polka musicians here in Central Texas to get a small polka combo off the ground. I happened to find the perfect drummer through the classified ads, first call. At our very first rehearsal, Steve Tounsand showed up at my house with a 50's Leedy (Chicago) drum kit and left it in my front room for about 6 months. He's been my drummer ever since. A really big inspiration for me was hooking up with a GREAT clarinet player, Tim Walsh. I happened to meet him through fiddler Ralph White (GCP, Bad Livers). Tim was the original, founding member of Brave Combo. He plays clarinet, soprano and tenor sax with precision and soul. I've heard someone say that he has polka in his DNA! Ha! He is an awesome player!

What advice do you have for someone just starting to play the accordion?

After playing accordion for nearly 22 years, I've probably made every mistake in the book. Here are some important things I've learned along the way.

Choose the right accordion for the music you want to play: diatonic vs. piano accordion. If you want to play traditional Cajun music, you should really be learning on a 10 button, four reed diatonic accordion. Tejano-Norteño players typically use a three-row, two reed, Hohner Corona or a Gabbanelli. Modern Zydeco bands use a 10 button Cajun box, but often it's played on a piano accordion, too.

There is more "power" in a diatonic accordion. Most of the traditional dance music bands use a button accordion (Cajun, Tejano, Vallenato, Irish, Slovenian, etc.). In my opinion, you can get a stronger attack with a button accordion, more articulation. I think playing a diatonic creates a different kind of sound wave with all the in-and-out push-pull action. It's built to get people on the dance floor. It does have its limitations; it can be difficult at first to play "chromatically" on a diatonic accordion, but not impossible. You can play all the styles on a piano accordion, but you won't get the subtle flavor of diatonic accordions.

"In my opinion, you can get a stronger attack with a button accordion, more articulation."

Also, keep in mind, there are different styles of tuning for the different traditional dance musics. This usually work is done by a technician after you purchase the accordion. For Tejano and Cajun music, the reeds are flattened by a few cents to give it a sweeter, dry sound. This effect can be achieved on a piano accordion via the switches (bandoneon, clarinet, musette, etc.). Tuning is very important and gives you the stylistic voice for the music you are playing.

Playing by ear or reading music? In my experience, most dance music is learned by ear. Some of the best advice I've had comes from a couple of Cajun players, Danny Poullard and Marc Savoy. It's so simple. You need to "know" the tune before you even attempt to play it! You should be able to sing, hum or whistle the tune in your head before you start pushing any buttons. Simple. Play what's on your mind! I've found that slowing down tunes really helps in learning the difficult passages. Use your MP3 player to slow 'em down!

Accordion players: beware of the evil eye! In a lot of this dance music, the accordion is the center of attention. The accordionist is drawing energy from the crowd and giving it back; you are a magnet for good and bad energy. People are watching you, judging you, they may be jealous or they may have an outpouring of affection for you. Either way, it can mess with you.

I've heard a few stories in Texas about accordion players struck with "el ojo". I actually played a dance with a famous accordion player who claims he was struck down by the evil eye. Passed out on stage; we had to finish the gig for him with his band. He went to the hospital and was later visited by a woman who broke the spell. I've heard a similar story about a very young Tejano player who experienced the same kind of thing growing up as a child prodigy, always passing out on stage. When he did, the old ladies would come and lay a hand on his head. It's a custom I found here in Texas among Chicano and Mexican people, especially when you see a beautiful child with pretty eyes or nice hair you touch their head so you won't give them the evil eye.

The Italian accordion builders know about it, too. Not to worry, they are looking out for you! One way of protecting yourself is built into your accordion. Those little jewels are there for a reason; not only do they look nice, but they reflect the evil eye back to the person giving it, canceling it out! Some Italian accordions even have a little window built into the accordion where you put a picture of a saint, your mother or a mirror for protection. Believe it or not, it's interesting accordion folklore.
You can catch two of Bradley's bands — Conjunto Los Pinkys and the Fabulous Polkasonics — at the on June 21st at the Broken Spoke in Austin. See our calendar for details.